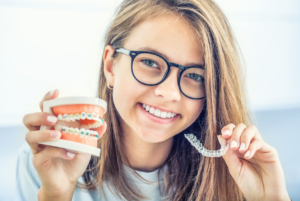 You've just completed orthodontic treatment, you're done with braces, and your teeth look amazing. Congratulations! But now what? You don't want all that hard work to go to waste. Now it's time to think of retainers from our Thornton office for your healthy teeth.
What is a Retainer?
A retainer is a removable orthodontic appliance and an essential part of your post-orthodontic treatment care. It helps ensure your teeth stay aligned and healthy after they've been straightened.
Our orthodontic retainers in Thornton are custom devices made from top-quality materials and designed to be comfortable and durable.
Why do I Need a Retainer?
After removing your braces, your teeth will want to return to their original positions. Retainers help hold your teeth in their new, healthy alignment.
How Long do I Need to Wear Retainers?
We recommend that most patients wear their retainer(s) every night at first and sometimes during the day following orthodontic treatment. 
Dr. Bruggeman will help you determine how long you need to wear your retainer for long-term treatment. Treatment time can vary based on your individual dental needs. 
The specific length of time will vary. You can wear your retainer all the time (for six to 18 months) or during the day only (for example, during school hours). 
But generally speaking, you'll need to wear it for as long as it takes for your teeth to stay in their new positions. That could be anywhere from a few months to a few years.
It is essential to follow the recommendations so that you can enjoy a lifetime of healthy teeth and a beautiful smile. 
Types
There are two types of retainers: removable and fixed.
-Fixed Retainers
A fixed retainer is bonded to the back of your teeth. It's usually used in combination with other types of retainers. And it's not meant to be removed by you. Dr. Bruggement will remove a fixed retainer when treatment is complete.
-Removable Retainers
A removable retainer is made up of wires that fit around your teeth. It snaps into place and can be removed by you.
Caring for Your Retainers
It's essential to take good care of your retainer. That way, it will last longer and do its job correctly.
You'll need to clean your removable retainer daily with soap and water. You should also brush it lightly with a toothbrush. And be sure to remove it before you eat or drink anything other than water.
Here are some tips for taking care of your retainer:
– Rinse it off: Before you put your retainer in your mouth, rinse it off with cold water. Water will help remove any bacteria that may be on it.
– Brush it: Use a soft toothbrush to brush your retainer. Be sure to brush all the surfaces, including the wires.
– Soak it: Every night, soak your retainer in a solution of cold water and a denture cleaner. The cleaner will help keep it clean and free of bacteria.
– Don't wrap it in a napkin: When you're not wearing your retainer, don't wrap it in a napkin. The napkin can cause it to bend or break.
– Keep it in its case: Store your retainer in its case when you're not wearing it. The case will help keep it clean and protected.
The Best Retainers for Your Teeth in Thornton
When you're finished with orthodontic treatment, you don't want to start over again with braces. Don't forget to get a retainer, and you won't have to.
The Bruggeman Dental team is here to help guide you through the entire orthodontic process from start to finish. We'll help you choose the right retainer, including fitting and adjusting it correctly.
Call us to schedule an appointment today at Bruggeman Dental in Thornton, Colorado. We would be happy to help you get started on your orthodontic treatment journey.
 Let's keep those teeth in line.