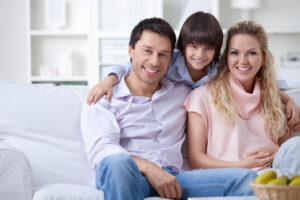 You brush and floss every day, so why are you still getting cavities? Cavities are caused by bacteria that form on teeth. That bacteria can be hard to get rid of if not treated quickly enough. But at Bruggeman Dental in Thornton, we have a solution – preventative dentistry. Preventative dentistry is all about keeping our teeth and gums healthy and avoiding invasive procedures.
At Bruggeman Dental, we value each patient and their smile. Our philosophy is to stop dental issues before they occur. We want to be mindful of the source of problems rather than wait until it's time to address the symptoms. 
Preventative Dentistry Services in Thornton, CO
Preventative dentistry is a series of treatments that help you stop dental problems before they occur. This means you'll keep your teeth healthy and cavity-free for years to come. And the best part is that it's affordable and easy to schedule an appointment.
The following are some preventive dentistry services we offer to keep your teeth free of plaque and decay. 
Preventative Dentistry: Bi-Annual Check-Ups
Professional cleanings and exams at our Thornton office will help keep your teeth strong and healthy. We recommend cleaning appointments twice a year. 
We can do the cleaning quickly and comfortably. The hygienist will work to remove any plaque and bacteria buildup along your gum line. We will also remove the tartar that has hardened above and below the gum line with specialized dental instruments. Then we will polish your teeth, leaving them feeling brand new.
The hygienist will floss your teeth to complete your examination. 
Preventative Dentistry: Fluoride Applications
We recommend a fluoride application following your cleaning, an excellent preventative measure for fighting cavities. We can apply the fluoride, a white, sticky substance, to the surface of your teeth. This mineral strengthens the enamel of your teeth and protects them from cavities.
Preventative Dentistry: Dental Sealants 
Sealants are another excellent approach to avoiding cavities and maintaining a healthy smile. They're used on the chewing surfaces of your molars and premolars, which are where the majority of cavities form. Sealants are a long-term investment in your oral health because they can last up to ten years. It's a simple approach to improving your hygiene routine, and they just take a few minutes to apply.
Preventative Dentistry: Oral Exams
In addition to cleanings, We recommend an oral exam and x-rays at least once a year. The examinations are painless and straightforward. Dr. Bruggeman will screen for any sign of cavities, decay, overcrowding, infection, and other concerns during the examination. If any issues arise, it will be easier to address them immediately rather than wait until they become a bigger issue.
We will also provide you with personalized tips on your dental hygiene to help you build upon your at-home care.
At-Home Hygiene
At Bruggeman Dental, we do everything to help you keep your teeth healthy, but ultimately, preventative dentistry is up to you. In addition to staying current on your bi-annual checkups and cleanings, we recommend your brush at least twice a day using fluoride-based toothpaste. Brush for at least two minutes each time. 
We also recommend flossing. Flossing is one of the most vital aspects of dental care, yet it's also one of the most overlooked. Following your brushing and flossing with mouthwash will help you avoid bacteria and plaque buildup.
We also advise staying away from sugary and starchy foods and beverages. These can promote plaque buildup and tooth decay.  
When indulging in vigorous activity, use a mouthguard and avoid opening packages with your teeth. 
Don't Treat Dental Problems – Prevent Them
Come to our dental office in Thornton, Colorado or call us today to set up an appointment for the best preventative dentistry treatments. We are looking forward to assisting you.
With the right approach and treatment plan, we'll help you stop dental problems before they occur and keep your teeth beautiful, functional, and healthy for a lifetime.