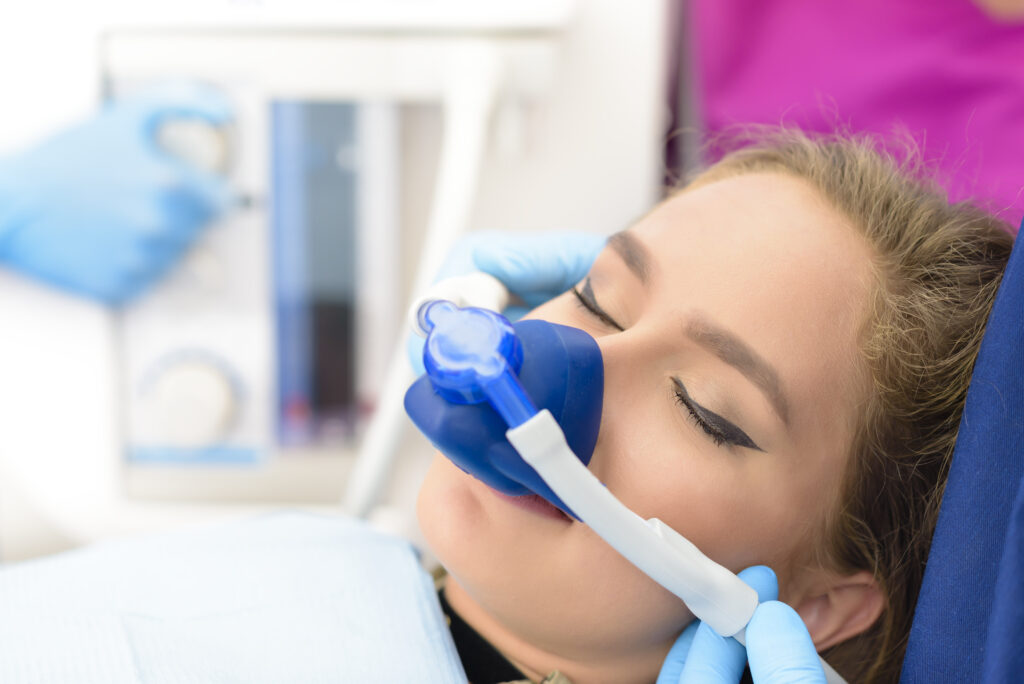 Are you looking for a family, friendly dental office that has your comfort in mind? Our experienced dental professionals help make sure each patient is confident in their smile by providing comprehensive and quality treatments at an affordable rate. At Bruggeman Dental, we offer more than just your typical checkup; our preventative care program helps us create relationships with you and your children so that they understand the importance of regular visits to a dentist. And if you or your kids suffer from dental anxiety, we have sedation dentistry solutions that can help in Thornton, Colorado.
Please schedule an appointment today on our website or call us now for more information about how we can help you have a healthy mouth that lasts a lifetime!
Sedation Dentistry and its Benefits
You may be worried about going to the dentist, especially if you've had a traumatic experience in the past. That can lead to skipping appointments and putting off necessary dental work until it becomes an emergency. Dr. Bruggeman and his team know that these concerns are real and can impact your overall health, and our sedation dentistry services can help ensure that nobody has to miss out on taking care of their oral health.
At Bruggeman Dental, we understand the fear many people feel when visiting the dentist. To make our patients more comfortable, we offer sedation dentistry. Our experienced team of dental professionals provides calming methods to make your appointments stress-free. You can relax without feeling anxious or uncomfortable while the team takes care of your dental needs. 
Sedation dentistry in Thornton, CO can also help Dr. Bruggeman and his team accomplish more of the treatments you need during your appointments. When sedated, you won't feel as concerned about all the steps necessary for things like gum treatments or dental cleanings.
Sedation Options are Available at Our Thornton, CO Practice
Sedation dentistry involves administering laughing gas sedation before the procedure. Laughing gas is a sedative that relaxes the patient and helps them remain calm throughout the process. After placing a mask over your nose and mouth, the gas is administered. This sedative helps reduce any anxiety or fear you may feel before and during the procedure. During the procedure, you'll remain conscious enough to respond to our verbal cues but may have little recollection of the appointment after it's over.
In addition to laughing gas sedation, our team provides general anesthesia for more complex dental procedures such as root canals and wisdom teeth removal. General anesthesia helps block pain, while sedation relaxes the patient during the process. Once the treatment is complete, the sedative will be stopped, and you will slowly return to your normal state.
Is Sedation Dentistry Safe?
Yes. Sedation has been used in the medical industry for hundreds of years to ensure a comfortable and relaxed experience. It has been approved by the American Dental Association as a safe and effective means of treatment and is suitable even for children. And we are proud to say that at our practice, we use only the highest safety standards when offering sedation dentistry so patients can feel secure in the knowledge that their safety is our priority. For example, our team will monitor you as you remain sedated and relaxed to ensure your well-being.
Sedation Dentistry in Thornton, CO
Whether it's fear of the dentist or a painful previous experience that keeps you from having proper oral care, sedation dentistry can offer greater comfort and control of your situation. Feel free to bring up any questions or concerns about the process so we can ensure you feel comfortable at every step.
We strive to provide exceptional customer service and quality dentistry with an extra touch of compassion, understanding, and gentleness from our caring staff. In addition to our knowledge and experience, we strive to ensure every visit is as pleasant and worry-free as possible. We want your experience here at Bruggeman Dental to be comfortable, enjoyable, and stress-free, and we know how to make that happen! Contact us today to schedule an appointment! Rest assured that you are in good hands with us.