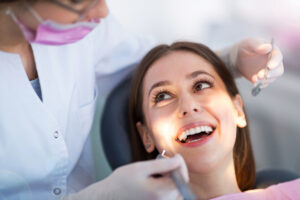 Are you missing a tooth? You're not alone. With our dental bridges treatment in Thornton, we can restore your smile and confidence. We can use your existing teeth as support to create a prosthetic tooth set over the gap left behind by a missing tooth. A dental bridge will help improve your oral health and appearance.
How Do I Get Dental Bridges?
At Bruggeman Dental, we can create a bridge for you in just a few appointments. 
Our quality dental bridge service starts with good information. We want you to be able to make an informed decision about your treatment plan. During your first consultation, we perform a thorough dental examination, provide some recommendations, and answer any of your questions about dental bridges. 
Once you are confident that bridges are the best option for you, we'll prep your teeth during the next appointment. We create abutments from your existing teeth where the bridge will be attached. The existing teeth are shaped to provide a base for your bridge. Then we use impressions to take a mold of the area and send it off to the lab so they can craft your bridge. The mold helps to create the exact fit we are looking for.
While the lab crafts your permanent bridge, we will set you up with a temporary bridge. The temporary bridge will help protect your mouth and gums and look better than having a missing tooth or missing teeth. We will call you back for a follow-up appointment to install the bridge when the bridge is completed.
What is the Recovery Process?
Having something new in your mouth will take time to get used to, but that is normal. It doesn't take very long to get used to dental bridges. After you have your bridge placed, try to eat soft foods to get used to the new feel. Your teeth may also be slightly sore, so avoiding hard, crunchy foods will naturally be good. After a few days, you should be able to eat as you usually would and have no problems.
We encourage you to stay in touch with all of our treatments or services. If something doesn't look, feel, or function the way you expect, we want to know about it. We will get you into the office as quickly as possible to evaluate the issue and adjust your dental solution as necessary. 
What are the Benefits of Dental Bridges?
With a dental bridge from Bruggeman Dental, you'll be able to eat all of your favorite foods again without worry. Bridges deliver a permanent, fixed restorative dental solution, unlike dentures, which can come loose. 
You also won't worry about what will happen when you smile. You'll love the new sense of confidence you'll feel and will be proud to show off your complete set of new teeth. We carefully match the bridge size, shape, and color to blend in perfectly with your smile. 
Bridges provide an affordable, non-invasive, and permanent solution that doesn't require surgery or implants. They're often less expensive than alternative options.
The Best Dental Bridge Service in Thornton
We want you to have the best possible experience with us, offering the best possible dental service. Come in for a consultation with Dr. Bruggeman to discuss your options for restoring your smile. We believe that you should have all the information you need to decide on your dental care.
Call to Schedule a consultation today at our Thornton, Colorado office, and let us help you get your smile back. We can bridge the gap between your missing tooth and your healthy, functional, confident smile.