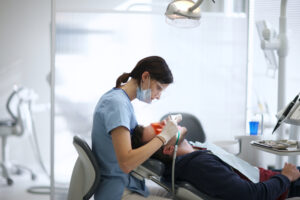 At Bruggeman Dental, we can deliver a new set of teeth. We can provide dentures at our Thornton office, so you no longer need to feel self-conscious about your smile or worry about missing teeth when speaking or chewing food. If you're interested in dentures, please don't hesitate to reach out to us. 
What Are Dentures?
Dental dentures replace missing teeth. They are easy to maintain and easy to clean – they can be removed and put back into your mouth whenever needed. Patients have the option of full or partial, depending on individual cases. Full dentures replace all the natural teeth, while partial might replace between one tooth and an entire tooth row.
Dr. Bruggeman can custom-fit your dentures, ensuring they're a good match for your natural teeth. They also match the natural colors of your smile, including tooth and gum color. 
There Are Two Types Of Full Dentures:
Conventional – The dentures replace all of your natural teeth, both the upper and lower rows.
Immediate – Before having your teeth removed, Dr. Bruggeman takes measurements and has dentures fitted for your mouth. After removing the teeth, we immediately place the dentures in your mouth. The benefit is that you do not have to spend any time without teeth. You will, however, need to have a follow-up visit to refit them because the jaw bone will slightly change shape as your mouth heels. They will need to be tightened after the jaw bone has healed.
Partial Dentures
They are an option when some of your teeth still remain or are in good enough shape that they don't need extraction. They are not a permanent fixture in your mouth, such as a dental implant and crown that includes the artificial tooth root to tie into your jawbone.
What Are New Dentures Like?
They may take some time to get used to at first. The flesh-colored base of the dentures is placed over your gums. Some people say that it feels bulky or doesn't have enough room for their tongue. Other times you might feel like they are a little loose. These feelings will affect how you eat and talk for a little while. Over time, your mouth becomes accustomed to eating and speaking, and they begin to feel more and more like your natural teeth. Getting used to them might be a minor inconvenience, but it is probably better than the alternative of missing teeth. 
Caring For Your New Dentures
Even though a denture is not natural teeth, you will still need to practice good oral hygiene. It would be best to brush them using a denture cleaner to remove plaque and food particles at least once per day. You can keep them in a cup of water when you sleep. When storing and cleaning them, take care not to use hot water because it could warp the dentures. They are delicate, so make sure you handle them carefully and try not to drop them. Also, never try to adjust them by yourself. You should always seek assistance from your dentist if you feel like they are uncomfortable or loose.
All-On-4® Treatment
The All-on-4® treatment establishes a fully customized denture placed atop four titanium implants. The All-on-4 ® treatment permanently replaces the entire upper or lower teeth. They're great for patients with significant tooth loss or decay and those who do not qualify for dental implants due to significant bone loss.
Just ask us about this option for dentures, and we'll help you determine if it is right for you.
Call Us Today For New Dentures in Thornton, CO
Dentures help replace missing or non-functional teeth. They can help you chew all your favorite foods again. They can help you smile again with confidence. 
Call us today to set up an appointment, and we'll get started on your new smile.