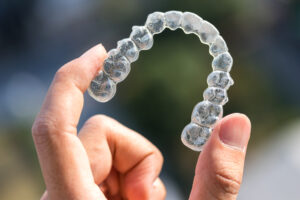 We all want to have a smile we can be proud of. And many of us have teeth that need a slight nudge in the right direction to make this possible. That's why cosmetic dentistry is such a popular option. If you are looking for the right dental treatment this year to give you the smile of your dreams, Invisalign in Thornton might be a great option.
Invisalign is a great way to straighten your teeth without anyone knowing. You can wear them all day and take them out to eat and brush your teeth like normal.
What is Invisalign?
Invisalign is an orthodontic treatment similar to the traditional braces we are all familiar with but without the unsightly metal frames. It is made from transparent plastic, allowing you to wear it without others readily realizing it. Clear aligners are ideal for adults who want discreet treatment without noticeable metal braces. 
Invisalign is a treatment that can be faster than a traditional braces treatment and can include a lot less hassle. You will be able to remove your aligner when you eat and brush your teeth – and this is a good thing because it means you don't have to spend time the amount of time you would need to spend cleaning traditional metal braces. Using a soft toothbrush, soap, and water, you can brush your aligners. Then, rinse them off and pop them back into your mouth – it's that simple. 
What is the Process? 
Invisalign clear aligners are custom-made to your mouth for maximum comfort and can be worn throughout the day with no issues. If you are considering trying Invisalign, these are the steps you can expect to take: 
Consultation: First, you'll need to visit Dr. Bruggeman to discuss your dental goals and what you expect to get out of your Invisalign treatment. Maybe you want to correct an overbite, eliminate gaps between your teeth, or fix teeth overcrowding. Whatever the issue, Dr. Bruggeman can help you determine if Invisalign is the right solution. 
Preparation: We'll take a bite impression of your mouth and send it to the Invisalign lab. The lab specializes in crafting the aligners to your unique dental measurements in line with the prescription for moving your teeth which Dr. Bruggeman writes. 
Creation: Using 3-D modeling technology, Invisalign will create your aligners, designing them to move your teeth where you want them gradually. You'll need approximately 12-14 total aligners. 
Fitting: When the aligners are ready, you'll see Dr. Bruggeman again at your next appointment. He'll fit the first one and check with you to ensure it is comfortable. 
Living with Invisalign: Every aligner set needs to be worn for about two weeks before you're ready to move on to the next one. Each aligner will gently guide your teeth in the intended direction. You should also wear them at night, usually for about 22 hours per day.  
After the Treatment: Once you have completed your entire course of Invisalign, you'll go back to the dentist to discuss your results. After treatment, you may need to wear a retainer for around six months to ensure that the changes made to your teeth will stick.
Discrete Invisalign Treatment in Thornton, Colorado
You'll love the results of our Invisalign treatment – straighter teeth in as little as 12 months, using aligners that won't stand out when you smile or speak. You'll be able to eat all of your favorite foods without worrying about them getting stuck in your braces. Straighten your teeth with Invisalign and feel more confident than ever before.
Call Bruggeman Dental today to schedule a consultation if you're interested in getting Invisalign in Thornton, CO. We would be happy to discuss Invisalign with you and answer any questions you may have.