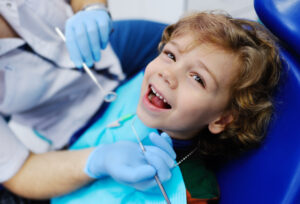 You don't have to go from dentist to dentist for your family's dental needs, Bruggeman Dental can conveniently provide nearly any dental service for your family members – from toddlers to grandparents – under one roof in Thornton, We offer Family Dentistry.
You'll love our convenient location and hours and our comfortable and relaxing environment. Plus, you'll appreciate our affordable prices – we want everyone in the family to enjoy excellent oral health!
What is Family Dentistry?
We need dentists at every stage of our lives, and family dentists have us covered as our teeth grow and change from childhood through adulthood. Seeing the same family dentist throughout your lifetime can be helpful because your dentist will know you, your dental goals, and your dental history. You will feel more comfortable with a dentist you know and who you can trust. 
With our family dentistry services in Thornton, we are extensively trained and experienced in treating people of all ages. Many general dentists only specialize in specific treatments or age groups.
Instead of driving all over town for different appointments and dental specialties, we could treat you for a filling, your child for a braces adjustment, your parents for a general checkup – all during the same trip and conveniently under one roof. 
Our Family Dentistry Services
If you don't see a treatment listed here that you are interested in, just ask us about it. The chances are good that we either offer the service or that we can refer you to a dental specialist who does. 
Regular exams and teeth cleaning
It is essential to have a dental exam every six months to ensure that your teeth and gums are healthy. Dr. Bruggeman can ensure your teeth and gums are in the best possible shape, and he can spot potential dental issues that may not have any symptoms. 
We also recommend routine professional teeth cleaning during your regular exams. Teeth cleanings are one of the best preventative dentistry measures to help avoid dental problems rather than have to treat them. The cleanings are fast, and we ensure your comfort at every step. They also leave your mouth with that fresh, clean feeling that you love,
We often recommend fluoride treatments to help prevent tooth decay, especially for children. Children tend to be more likely to eat more sugary foods and not brush their teeth properly as often as adults, and fluoride treatments are an extra preventative measure. We'll apply them in just a few seconds, and you or your child will be good to go. 
Fillings are common dental treatments. Even if you have perfect dental hygiene habits, you may have a cavity or two now and then. A cavity can be bad for your tooth and can also cause a toothache. We'll remove the decayed tooth portion and fill the space back in with a dental composite resin. We'll choose a resin shade to match your tooth color and sculpt the resin to blend perfectly with your tooth. It's a quick, easy process that means no more toothache. 
Not every family dentist will provide orthodontic services. Dr. Bruggeman prides himself on providing an extensive range of services to cover your entire family's dental needs, including orthodontics. As a trained orthodontist, he is certified to help straighten your or your child's teeth and correct malocclusions or problems with your bite, such as overbite and underbite. Braces are a standard orthodontic solution, although as a family dentist, Dr. Bruggeman specializes in many treatment options that can help. We'll ensure you or your child benefit from the best possible solution.  
Dental Services for Your Entire Family in Thornton
Bruggeman Dental is a one-stop shop for all of your family's dental needs. We're a full-service family dentistry practice, providing preventive care, cosmetic dentistry, restorative dentistry, and more. So whether you need a routine cleaning or you're looking for a complete smile makeover, we can help.
Give us a call at 720-428-8607 to book a consultation today.