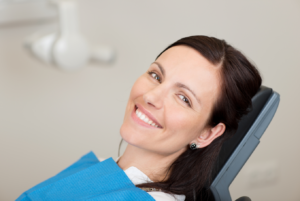 Do you have a broken, cracked, decayed, or missing tooth? A dental crown may be the perfect solution for you. Bruggeman Dental crowns in Thornton are made of the highest quality materials and custom-fitted to your teeth. They can strengthen your teeth and restore your smile to its former glory.
What is a Dental Crown?
A dental crown can restore health and enhance dental aesthetics. It is a prosthetic that covers the entire surface of a tooth to bring back its shape, size, strength, and appearance.
One benefit of a crown is keeping your natural tooth in place. It is often a great idea to keep a natural tooth in place rather than extract it when possible. There are alternative tooth-replacement options such as dental implants, but they are often more invasive and expensive than dental crowns.
What are Crowns Made Of?
Modern crowns can be made from porcelain, porcelain fused to metal, or gold. To maintain a natural look and feel, Dr. Scott Bruggeman will recommend the best material for your case and preference. 
Especially with porcelain, we can match your crown to look similar in color to your teeth.
Do I Need a Dental Crown?
Do you feel your smile isn't what it once was? If so, we may recommend dental crowns for several reasons. You may have had tooth decay that has destroyed much of your tooth or exposed the tooth's root. Or, you may have noticed over time, your teeth begin to weaken and become susceptible to problems such as cracks or discoloration. You may even have issues with grinding that speed up the weakening and chipping process.
To protect the tooth from future decay or save it, we can place a crown to shelter it. Of course, we will first address the underlying issue with the natural tooth. This way, the natural tooth will provide a healthy and effective anchor to hold the crown in place.
We can also place crowns for cosmetic reasons. They can improve tooth color, size, and shape and help eliminate gaps between the teeth.
What is the Process Like for Getting Dental Crowns?
Our team at Bruggeman Dental is dedicated to providing our patients with comfortable, fast, effective dental crown treatment. With our experienced staff and advanced technology, we can give you the best possible experience. We want you to feel confident in your smile and your new dental crowns. 
Placing a crown is among the least time-consuming of the restorative dental options. The procedure typically involves several steps:
Dr. Bruggeman will re-shape your tooth so the crown will fit on top of the tooth. Typically you're given a local anesthetic, so you don't experience any discomfort. 

Once we prep the teeth, we will take an impression. We'll send the impression to a lab to have them sculpt the crown to your tooth size, shape, and color specifications.

The creation can take a few weeks. In the meantime, if necessary, we can place a temporary crown to protect the tooth and enable dental functionality. 

Once the crown is ready, you will have the final appointment to install the crown. We can make additional adjustments to ensure the crown looks, feels, and functions like you expect during the fitting.
Get Started With Dental Crowns in Thornton Today
We know that having a healthy, beautiful smile is important to you. Let us help you get there with our top-of-the-line dental crowns. We will restore your health and give you back your confidence. We know you won't be disappointed. 
Please call Bruggeman Dental today to schedule an appointment and see how our dental crowns can improve your life.