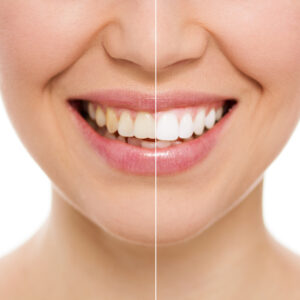 Your smile is one of the first things people notice about you, so why not make it your best feature? We offer dental bonding at our Thornton office to fix chips, cracks, and gaps in your teeth. We can even fix broken teeth.
Dr. Bruggeman and the experienced Bruggeman Dental team will work with you to determine if dental bonding is the right option for you.
What is the Dental Bonding Process?
Is a quick, easy, painless way to restore your teeth to their former glory. In just one visit, our team can have you on your way to having a perfect smile again.
The dental bonding process is simple. It involves applying a tooth-colored resin to the tooth's surface and then sculpting and shaping to match the surrounding teeth. 
First, we choose the color of resin that will best match your natural teeth. Then, we roughen up the surface of your tooth so that the resin will adhere better. Next, we apply the resin to your tooth and shape it to look like a natural tooth. Finally, we harden the resin. 
We can use bonding to:
-Fill in gaps. If you have gaps between your teeth, we can add the bonding material to close the gaps and give you a more uniform smile.
-Fix chips or cracks. If you have chipped or cracked teeth, we can use bonding to restore them to their original shape and size.
-Change the color of your teeth. If you are unhappy with the color of your teeth, we can apply a bonding tint that more closely matches the shade you desire. And because the bonding material lacks the pores present in your tooth enamel, it will stain slower than your natural teeth. You don't have to worry about whitening your teeth as often with dental bonding.
How Long Does Dental Bonding Last?
Dental bonding is a great restorative dentistry option, but it is not a permanent solution. Bonding typically lasts for 3-5 years before it needs to be replaced. Although with proper care, bonding can last longer. Up to 10 years in some cases.
If you are looking for a longer-lasting solution, we also offer veneers. Veneers are thin porcelain shells that are bonded to the front of your teeth. Veneers are more durable than dental bonding and can last for 10-15 years with proper care.
How do I Care for My Teeth With Dental Bonding?
It is essential to take good care of your teeth to extend the life of your dental bonding. Be sure to brush twice a day and floss daily. Avoid chewing on hard objects, such as ice or candy, as this can cause the bonding to crack or chip. It is also essential to visit your dentist regularly for checkups and cleanings.
What is the Cost of Dental Bonding?
The cost varies depending on the number of teeth being treated and the extent of the damage. Once we visit you during your consultation to determine your dental goals and thoroughly evaluate your teeth, we will provide a cost estimate for your dental bond treatment. We also offer various financing options to make all of our dental procedures more affordable.
Dental Bonding for Better Teeth in Thornton
A beautiful and healthy smile is essential for your personal and professional life. It can improve your confidence and even change your life. We want to help you restore your smile with our dental bonding services.
Call us to schedule an appointment today. You don't have to put up with broken, chipped, or cracked teeth any longer. You'll be able to display your former beautiful smile again in no time.