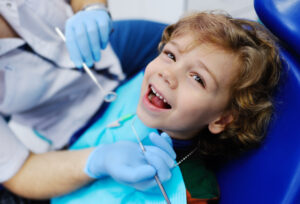 Do you have a little one who needs some dental care? Dr. Bruggeman has years of experience providing the best pediatric treatment in Thornton, Colorado, and beyond.
Bruggeman Dental offers specialized pediatric dental care to infants, children, and teens. We know that getting your child to the dentist can be difficult, so we make our office fun and inviting. 
What is Pediatric Treatment?
Quality pediatric treatment is about excellent dental care and hygiene, but it's also about comfort and fun. We understand that children, in particular, might be the most anxious of our patients when it comes to dental visits. We strive to create an environment that children will enjoy and look forward to when it comes time for the next appointment. 
We provide our younger patients with books, toys, and a movie of their choosing on a nearby monitor during treatment. After each child's appointment, we hand out small goody bags with various incentives. We want to instill healthy oral hygiene practices in young children to help them avoid dental problems in the future. 
We also understand that children may be most prone to cavities. As we all know, children love sweets and the kinds of foods and drinks that aren't always exactly healthy for the teeth. And children aren't always the best at practicing good oral hygiene. But children should brush and floss their teeth as often as adults should.
Our mission is to help children understand the best way to fight cavities. Regular checkups are a part of excellent dental health for kids. We do everything we can to encourage kids by making coming to the dentist comfortable and fun.
Some of Our Pediatric Treatment Services
The following are some of the most popular dental services that we provide to children:
–Crowns and fillings. Crowns are placed over a tooth to restore its shape, size, and strength. We use fillings to repair a tooth that has been damaged by decay.
–Dental sealants. A dental sealant is a clear or white coating that we apply to the chewing surfaces of the back teeth. This helps to prevent cavities.
-Fluoride treatments. Fluoride helps to prevent cavities and strengthens the teeth. We offer fluoride treatments to our young patients.
-Brushing and flossing instructions. We teach children the proper way to brush and floss their teeth. We also provide them with the necessary tools to help them practice good oral hygiene at home.
-Spacers and other oral appliances. Spacers are small devices placed between the teeth to create a small space. We do this process before getting braces.
-Cleanings and general checkups. Professional teeth cleaning and regular checkups are essential for maintaining good oral health. We recommend that children come in for a cleaning and checkup at least twice a year.
Quality Care for Kids of all Ages in Thornton
We want your child to have a dental experience as positive as possible so they will continue to visit us for years to come. We want them to have a healthy smile for life. 
We offer comprehensive dental care that will address all of their needs. We also use the latest technology and equipment so kids can have a comfortable experience while they are here with us.
We also try to make things easy on mom and dad when a child requires dental care. We will do our best to schedule younger patients with their parents when they are most likely to have time in their day to see us. 
We invite you to visit and make Bruggeman Dental your child's dental home. Please schedule an appointment today by calling our office. Your kids will be excited to come to see us.
Call our office today to schedule a pediatric dental appointment in Thornton, CO.