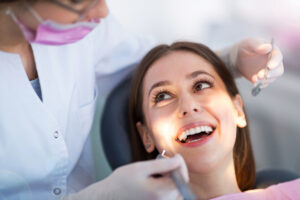 Tooth extractions may seem daunting, but our experienced professionals in Thornton, Colorado, make the process quick and easy. Our tooth extraction procedure is minimally invasive and uses the latest technology to ensure a comfortable experience.
Why Get a Tooth Extraction?
We often remove a tooth when patients experience a high level of tooth pain and the tooth is beyond repair. We also perform tooth extractions for a wide variety of other reasons.
A common reason is permanent damage through tooth decay or gum disease, also known as periodontal disease. 
Another reason we may extract a tooth is when teeth become impacted, which often happens with too much tooth crowding in the jaw, and the growing tooth presses up against another tooth. When an impacted tooth is stuck and unable to grow normally, it can cause gum infections. It can also cause the tooth to grow the wrong way, sometimes remaining under the gum or bone. Wisdom Teeth are the most common teeth that become impacted because they usually don't erupt until after all the other adult teeth are already in place. 
You may also want a tooth to come out for cosmetic reasons. If you have an issue with tooth size, shape, color, or spacing, you may opt for extraction. We can replace an extracted tooth with an implant or something similar. 
And lastly, a tooth may be extracted for orthodontic purposes. When a patient has crowded teeth, we may need to create space to straighten the rest of the teeth.
Dr. Bruggeman and the Bruggeman Dental team are highly trained and experienced in tooth extraction and commonly perform the procedure for many satisfied patients. 
How Does Bruggeman Dental Handle Tooth Extractions?
The vast majority of cases, we can quickly perform extractions while you are awake. We may use local anesthetic injections to eliminate pain. Dr. Bruggeman does his best to block pain. However, you may still feel occasional pressure. 
Some teeth are more difficult to remove. If the tooth is buried in the bone or concealed under the gum line, Dr. Bruggeman will make an incision to reach the tooth. 
Sometimes the whole tooth will come out, and other times we will need to take it out a few pieces at a time. We'll use the latest dental technology and specialized tools to remove the tooth. 
Helping Prevent Dental Phobia
Tooth extraction tends to be associated with the most anxiety among dental procedures. Dental phobia is an issue for some individuals. 
With local anesthetic, Dr. Bruggeman is confident your experience will be as comfortable as possible. Talk to us if you have a severe dental phobia, as we may have options available that can help you remain as comfortable and relaxed during the extraction. 
What is the Healing Process?
After tooth extraction, we can provide helpful tips on at-home care for the extracted area. Typically you should avoid touching the treated area with a finger or your tongue. 
It would help if you also avoided too much mouth rinsing and strenuous activity. And please avoid smoking for at least 24 hours as it impairs proper healing and makes complications significantly more likely during recovery. 
Let us know if you have any prolonged discomfort or if anything doesn't seem right during your recovery. We would be happy to get you back into the office as soon as possible to treat your issue. 
Get a Tooth Extraction in Thornton
Don't be daunted by tooth extraction. And if a tooth needs to come out, don't put it off—the longer you do, the more problems the tooth can cause. 
You will be happy with our results – it's our promise to you. We want you to feel confident about your smile and enjoy excellent dental health.
If you need a tooth extraction in Thornton, CO, call Bruggeman Dental today to schedule an appointment.