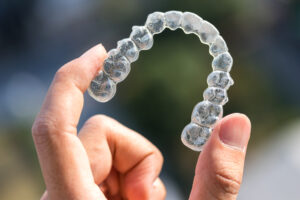 Do you have trouble sleeping or wake with jaw pain? It might be because you grind your teeth at night. If you do, you're not alone. Millions of people suffer from bruxism or the grinding and clenching of teeth. It can lead to many health problems, including tooth wear, TMJ pain, and even headaches. We can design custom night guards in Thornton to help you reduce or even eliminate bruxism complications. 
What Are Night Guards?
A night guard is a thin, acrylic shield that fits over your top and bottom teeth, preventing them from touching each other. You wear them while sleeping, much like athletes wear athletic mouthguards during sports. The guards can help reduce or even eliminate the symptoms of bruxism.
But our night guards are more comfortable than mouthguards worn by athletes because they're specifically designed to be worn at night, unlike mouthguards. Many patients report that after getting used to wearing them, they don't even think about the fact that the night guard is in their mouth while falling asleep. 
How Long are Night Guards Supposed to Last?
Our night guards are very durable and can be used for many years. However, how long they last depend on how well you take care of them and how often you wear them. On average, you should replace night guards every two to three years.
How to know if I need Night Guards?
Some people may grind their teeth consciously or unknowingly during the day. However, it is often a more significant problem at night while asleep. Dr. Bruggeman can usually tell if you have bruxism as signs of grinding show on the teeth.
Grinding your teeth can damage enamel, crack teeth, wear down teeth, cause jaw pain, or irritate gums. Night guards can help you avoid these complications and keep your smile healthy.
Should I Wear a Night Guard Every Night?
Yes, especially if you suffer from severe bruxism, you should wear your night guard every night. If you don't wear it every night, you could provide some tooth protection and slow down the effects of bruxism, but you could still experience extensive, long-term tooth damage. Talk to Dr. Bruggeman about any recommendations for treating bruxism, including how often you should wear a night guard.
How Do I Get a Night Guard?
If you think you may need a night guard, come in for an appointment. We can take an impression of your teeth and have a night guard custom-fitted and molded for your mouth. Night guards can be worn on either your top or bottom teeth, depending on your needs, and can also be made in various colors to pick one that matches your smile.
What Else Can I Do to Help Manage Bruxism?
In addition to wearing a night guard, there are several things you can do to help manage the condition of grinding your teeth:
Try to train your jaw to be relaxed and loose rather than clenched.

Refrain from chewing gum or on other objects like pens.

Avoid alcoholic drinks and drinks with caffeine, as these can increase the likelihood you will grind your teeth.
Guard Your Teeth at Night in Thornton
Bruggeman Dental is a family-owned dental practice in Thornton, CO. We provide general and cosmetic dentistry services to patients of all ages. Our dentists and team are dedicated to providing quality dental care in a comfortable, relaxed environment. We offer various services, including teeth whitening, dental implants, and night guards.
If you suspect you might be grinding your teeth at night, set up an appointment with Bruggeman Dental today to discuss your night guard options in Thornton, CO. We can help you get relief from the pain and damage caused by grinding your teeth.
With Bruggeman Dental, you can rest assured knowing your teeth are in good care and sleep easy.
Call us today to set up an appointment!