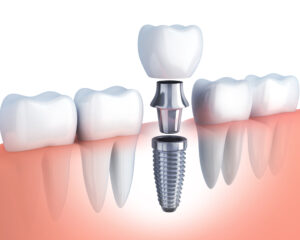 Are you missing a tooth? Have you damaged one? We can help. We offer Restorative Dentistry, a variety of treatments in Thornton to replace missing teeth and restore your dental health. You'll enjoy a new smile that looks and feels natural. You'll be able to eat whatever you want and speak with confidence. 
Types of Restorative Dentistry 
There are many types of restorative dentistry, and Dr. Bruggeman can discuss the best option for your circumstances. Here are some of the main types of restorative dentistry available:
A filling provides a way to replace tooth decay and fill a cavity. Dr. Bruggeman can numb the area around the tooth that needs treatment and remove the tiny spot in a tooth that has a cavity. He will then remove the decay using specialized dental instruments, including a dental drill, air abrasion instrument, or dental laser.
We can replace the cavity with composite resin fillings before finishing the procedure by polishing and sculpting to ensure an excellent match to the rest of your tooth. 
A crown is a natural-looking prosthetic tooth cap that shelters your existing tooth to strengthen it or improve its shape. To place a crown, Dr. Bruggeman will first prep the tooth it will cover to ensure a good, solid fit. Then we will make an impression of the tooth. We send the impression to a lab that specializes in dental prosthetics. The lab will custom-craft your crown to your unique dental specifications. We'll fit it on top of your tooth when the crown is ready. We'll ensure the crown looks and feels the way you expect it to. If it doesn't, we can make adjustments.  
Implants replace an entire tooth if it is missing or needs to come out because of decay or something similar. It consists of a titanium rod to serve as a replacement tooth root and a crown. Dr. Bruggeman can make a small incision in your gum and surgically place it into your jawbone. Implants work to replace a singular tooth, or we can place multiple implants to hold a tooth set, such as a denture. 
A root canal is a therapeutic process to eliminate infection and save your natural tooth. The first step is to drill down to the tooth pulp and clean out the infected material. Then we'll disinfect the tooth's interior and seal it with a composite resin to add strength. Lastly, we'll cap the tooth to prevent bacteria and food debris from entering and give the tooth a natural, attractive finish. During recovery, you may need to eat only soft food and avoid strenuous activity.
Extractions are often the last resort in restorative dentistry because it's often the best option to save a natural tooth. If a tooth needs to come out, we'll first numb the area with an anesthetic. We'll then use specialized dental tools to extract the tooth. You may need some resting time to recover and heal. Once your mouth has healed, we can perform the subsequent restorative dentistry treatment such as an implant. 
Restoring Smile After Smile in Thornton, CO
Need restorative dentistry in Thornton, CO? Call our office today to schedule an appointment and get your oral health back on track.
We will ensure the best possible long-term results for all of our patients with our knowledge and expertise. We'll take the utmost care to provide five-star service. 
We offer a variety of treatments so you can choose the one that fits your lifestyle and budget. From fillings and crowns to bridges and implants, you'll find a solution at Bruggeman Dental. We'll help you bring back your natural smile and protect you from future oral health problems.
Call us today to set up an appointment.