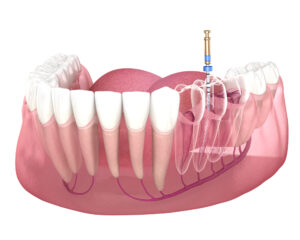 Do you have tooth pain that won't go away? You may need root canals in Thornton. But fear not. Our root canal therapy in Thornton can help you not only save a natural tooth that has become infected, but you'll never again feel pain in that tooth. 
Contact Bruggeman Dental today to begin the process of healing your tooth.
What is a Root Canal?
Root canal therapy is a common dental procedure that eliminates internal tooth infections. 
When a tooth is damaged or decaying, the internal tooth portion, including the nerves and blood vessels, can become exposed. The exposure can allow bacteria and debris to enter the tooth and cause disease. If you don't address the problem soon enough, the disease can spread. The infection can turn into an abscess, a much more severe problem that may include bone and tissue loss. This can be bad for your overall health and extremely painful. 
The best way to treat this problem is often with a root canal, removing the infection and preventing further issues. 
Root Canals in Thornton are a Two-Step Process
The procedure begins with sedation. Dr. Bruggeman can numb the tooth with a local anesthetic. 
The next step is for Dr. Bruggeman to use specialized tools to drill down into the tooth to create an opening into the canal. Opening the canal will allow him to access the diseased tissue and clean out the infection. Then, he will sanitize the treated area and fill it with a resin to strengthen and protect the tooth interior. 
The last step is to seal the tooth with a permanent crown. This crown will blend with your natural tooth color and shape. It will also prevent more bacteria or debris from entering the tooth and finalize the successful root canal.
What to Expect Following the Procedure
Follow your dentist's specific instructions for a faster and less painful healing process. Generally, you should expect the following:
– Swelling and bruising around the treated area. The swelling is normal and will subside in a few days.
– Some discomfort or sensitivity to pressure or temperature sensations. The sensitivity is also normal and should fade over time.
– A decrease in tooth pain. If your pain persists, contact your dentist immediately.
– No eating on the treated tooth for a day or two.
– Limited use of the treated tooth until the permanent crown is in place.
-Brushing and flossing your teeth as usual, but avoid the treated area.
If you are experiencing excessive pain or discomfort following your root canal therapy, don't hesitate to contact our office. We want you to have a comfortable and speedy recovery.
Over-the-counter painkillers are usually enough to relieve any pain afterward, but Dr. Brugeman may prescribe additional medication depending on the need. 
Addressing Root Canal Phobia
"Root canal" may be a frightening term for dental patients to hear. But the benefits of modern technology and sedation make the procedure much more comfortable and, therefore, less intimidating. Anesthetics and proper treatment techniques allow us to perform the procedure with little to no pain in most cases. 
And root canal is a form of therapy. It's a healing process. You're eliminating pain and stopping the spread of disease. Not to mention that you are saving your natural tooth. There are dental solutions available that will extract a tooth and replace it with prosthetics, but it is often a good idea to keep a natural tooth in place when possible. 
Our root canal therapy will also allow your tooth to function again. You can enjoy all the foods you love without any pain from heat, cold, or biting too hard. 
Schedule Your Root Canals in Thornton, CO
Call our office today to schedule a root canal appointment in Thornton, CO. You'll be glad you did, and your smile will be full of healthy, beautiful teeth once again.