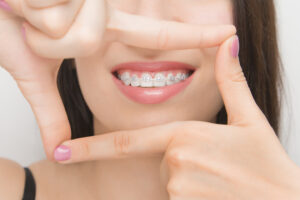 Do you want a better smile? Bruggeman Dental can help. We offer braces at our Thornton dental office as one of the most effective ways to correct malocclusions and straighten teeth. Our braces are comfortable and will give you the beautiful smile you've always wanted, you can achieve a straighter smile in as little as 12 months. You'll also enjoy improved oral health and an enhanced appearance.
Braces for All Ages in Thornton
Bruggeman Dental offers orthodontic solutions to meet your needs regardless of your age or dental condition. As a parent, you want your kids to enjoy the confidence of a smile with straight teeth. Or, maybe you wish you'd had braces earlier in life, and now you're ready to transform your adult smile. Bruggeman Dental can help you discover the smile you envision for every family member. It's never too early or too late to plan for a healthy, happy smile at Bruggeman Dental.
What Types of Braces Does Bruggeman Dental Offer?
We offer different options to help you get the smile you want the way you want it. These options include:
-Traditional metal braces for fast, effective treatment. 
-Ceramic braces include the benefits of traditional braces and blend in with your teeth for a more discrete treatment. 
-Invisalign for the most discrete treatment option. 
What are Traditional Braces?
They are made of metal and use brackets and wires to move teeth into the desired position. They are one of the most common types of braces and are often the most affordable. We can use them to correct various dental problems, including crooked teeth, overcrowding, and underbites.
What is the Process for Traditional Braces?
You'll have an initial consultation with Dr. Bruggeman to discuss your goals and determine what is the best solution for you. Then we'll develop your treatment plan.
Brackets will be bonded to your teeth, and the wire will be attached. The wire will be tightened regularly to apply gentle pressure to the teeth and gently move them into the correct position.
We can fit you for a retainer when you've finished with the treatment, so your smile stays straight.
How Long Do They Take?
The length of time depends on the condition of your teeth and the severity of the issue. Most people need braces for 12 to 18 months.
How Much Do Braces Cost?
Everyone's teeth grow a little differently, and they can shift position over time. The cost will vary depending on the type you choose and your unique dental situation. We will provide an accurate cost estimate to help you decide. We pride ourselves on offering payment options to make our services accessible and affordable to everyone.
About Bruggeman Dental
At Bruggeman Dental, we believe in building relationships with all of our patients so you can receive the highest-quality care from a dentist you know and trust. 
In addition to braces, we offer a comprehensive list of treatments and a full-service line of dentistry specialization. You and your entire family can receive all the dental care you need under just one roof. 
Get a Beautiful Smile in Thornton, CO
If you think you or your child needs braces in Thornton, CO, schedule a consultation with Dr. Bruggeman. He can perform an extensive dental evaluation and help you choose effective and affordable options. 
With our experienced staff and cutting-edge technology, we can get your braces on quickly and start your journey to a straighter smile.
Please call to schedule an appointment with us today. We would be happy to discuss our braces with you in more detail and answer any questions you may have.