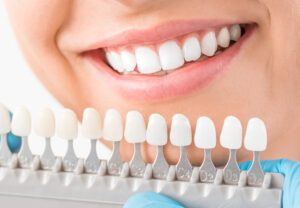 Do you love your smile? We believe you should. And you can, with our cosmetic dentistry services in Thornton, Colorado. 
Our skilled team can help you achieve the smile of your dreams, whether it's whiter teeth, a straighter smile, or just fixing some chips and cracks. We also offer dental implants, Invisalign, and other services to ensure your smile stays healthy and beautiful for years to come.
What is a Cosmetic Dentist?
Your smile might be the first thing people notice about you. If you feel embarrassed about it, it can impact other areas of your life, including your self-esteem. You may want to consider the services offered by a cosmetic dentist. 
A cosmetic dentist such as Dr. Bruggeman can deliver the smile you've always wanted. A cosmetic dentist can even help you improve the appearance of your entire mouth and facial structure, helping you get your confidence back again. 
What Cosmetic Dentistry Services are Available in Thornton, Colorado?
At Bruggeman Dental, we offer safe, effective, quality cosmetic dental services, including:
Dental Crowns
Dental crowns can shelter your existing tooth, covering its imperfections and keeping it in place for stability and natural functionality. We sculpt them to custom-fit your tooth and match your smile. Your new crown will look just like your natural teeth, including shape, size, and color. 
Dental Bonding
Dental bonding adds putty-like composite resin, which Dr. Bruggeman can use to enhance your existing tooth. He can sculpt the resin to eliminate tooth chips, increase tooth size, and improve shade and color.
Once the bonding material hardens, it will be durable and long-lasting. You may require touch-up appointments occasionally, but your dental bonding can provide a semi-permanent solution as long as you take good care of it. You can take care of it by keeping your teeth clean and healthy and using caution when biting into hard foods or candies. 
Veneers
Dental Veneers are thin shells of porcelain that the Bruggeman Dental team can attach to your existing tooth surfaces. Veneers conceal tooth flaws and improve tooth shape, size, and color. 
Teeth Whitening
Teeth whitening is one of the most popular cosmetic dental treatments and one of the quickest, easiest ways to improve the look of your smile. It can brighten your teeth by up to eight shades in a single treatment. The Bruggeman Dental team offers both in-office and take-home teeth whitening options to get the shade of white you want.
You may be tempted by one of the teeth whitening kits that you can purchase online or in a grocery store, but we do not recommend using these. They are not as safe or effective as our professional products and treatments, and you may be disappointed with the results. 
Finding a Cosmetic Dentist You Can Trust
Dr. Bruggeman and the Bruggeman dental team have the required experience and training to provide the service you need. 
Our cosmetic dentistry treatments can bring confidence to your smile for a lifetime, so we want you to be confident in our services, experience, training, and approach.
We would recommend you look at our before and after photos, which demonstrate the outstanding results enjoyed by our previous cosmetic dentistry patients. Our quality dental care and top-notch customer service also show in the reviews our patients have left for us. 
Top-Quality Cosmetic Dental Care in Thornton
Nobody should have to hide their smile. At Bruggeman Dental, we can help you look and feel:
Confident – not self-conscious.

Happy – not hesitant.

Beautiful – not bashful about your smile. 
Schedule a consultation today and see how we can help change your life for the better.