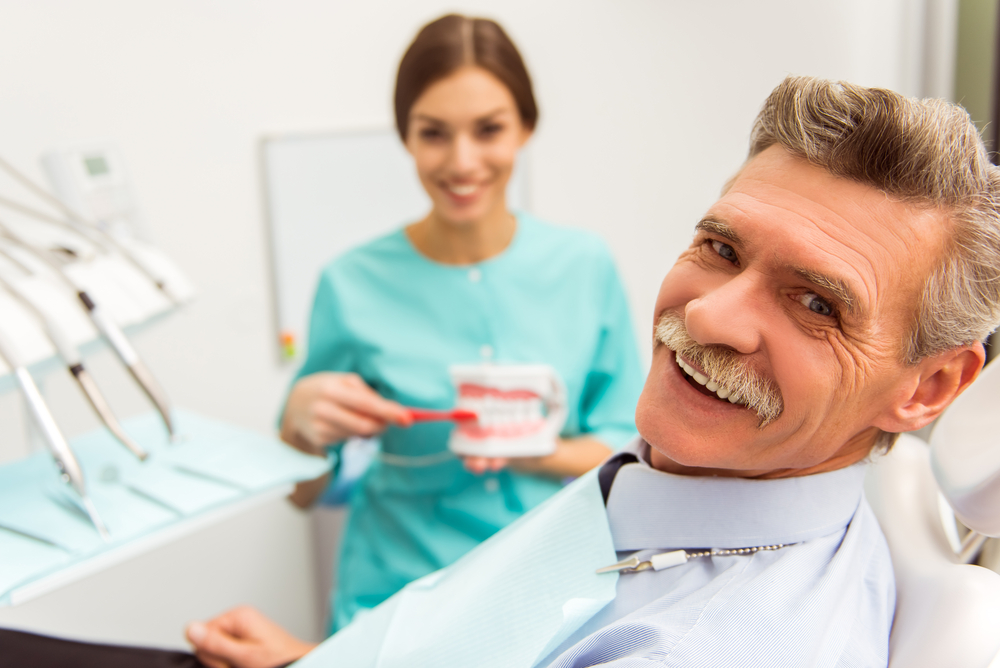 Missing teeth can be embarrassing and make it difficult to eat or speak. With our dental implants, you'll be able to eat whatever you want, speak without difficulty, and feel confident in your smile again. Our dental implants are made of titanium, so they're strong and durable. And our team in Thornton, Co, is experienced in providing quality dental implants that will last for years.
At Bruggeman Dental, we strive to give our patients the best dental care by offering a variety of dental procedures and treatments. Each patient's dental journey is different, and we offer various specialized procedures that cater to you. 
What is a Dental Implant?
A dental implant replaces a natural tooth. It consists of two main pieces: 
The titanium rod serves as the artificial tooth root.

The tooth crown serves as the prosthetic tooth.
We surgically place the titanium rod into your jaw bone, underneath the gum tissue. It provides stability and a strong foundation for your new tooth crown. 
We place the crown over the implant to give you a new tooth. Each tooth crown is custom-made to fit your smile perfectly. 
What is the Dental Implant Procedure?
Before we begin any treatment steps, we will go over any of your questions. We will administer anesthesia as needed and ensure you are relaxed, comfortable, and ready to proceed. 
The dental implant procedure begins with an informative consultation. Dr. Bruggeman can take a thorough look at your teeth, determine which dental issues might need to be addressed, and offer some great treatment recommendations, including possibly dental implants. 
If you decide on dental implants, the first portion of the procedure is the removal of an existing tooth if needed. Once your mouth and jawbone have had time to heal and recover from the extraction, we'll move on to the implant placement.
Dr. Bruggeman will surgically place the implant into the jawbone through the gum. The healing time after this step is estimated to be around 4-6 months. 
Once the surgical site has completely healed around the dental implant, the tooth crown is ready for placement. 
Dental Implant Benefits 
A dental implant looks and functions just like a healthy tooth, meaning you can clean and floss around it as normal, and it matches the size, shape, and color of the rest of your teeth. It's also a permanent solution that can last a lifetime with proper care. 
There are additional benefits, including:
Not only do dental implants increase the confidence you have in your smile, but they are also beneficial to the overall health of your smile. While chewing, stimulation goes through your tooth, down the roots, and into the jaw bone to keep them healthy. Without stimulation, the jaw bone and surrounding tissues can deteriorate. 
Tooth crowns are made out of porcelain, a pearly white material that gives the appearance of a natural tooth. These crowns can resist decay and cavities. The non-porous material also resists stains. 
A dental implant is a long-term, permanent solution that can be an economical restorative dental solution. It will prevent the need for numerous, expensive, alternative treatments that may not last as long or function as well.
High-Quality Dental Implants in Thornton, CO
We recommend dental implants as an excellent option for replacing teeth. With our dental implants, you can enjoy all the benefits of natural teeth without worrying about the hassles of things like tooth decay and staining. 
Please reach out to us at Bruggeman Dental in Thornton, Colorado, to get your dental implant consultation today. We look forward to helping our patients enhance their smiles and gain more confidence in their appearance.