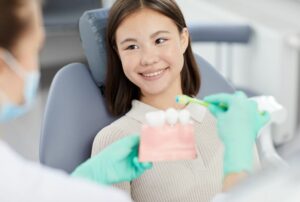 You deserve the perfect smile. Bruggeman Dental is here to help you get it with our orthodontics services in Thornton. We can correct any bite issues, straighten your teeth, and give you a beautiful smile. We use the latest technology and techniques to get you the results you want.
We strive to offer the most comprehensive and up-to-date braces, Invisalign care, and teeth retainers. Dr. Bruggeman and his team are experienced in treating kids, teens, and adults.
If you're looking for orthodontics in Thornton, fill out a contact form today. 
What Issues can Orthodontics Fix?
Orthodontics is a dental specialty that deals with diagnosing, preventing, and treating malocclusions (improper bites). Orthodontists use braces and other corrective devices to align teeth and jaws.
Malocclusions can be caused by many factors, including genetics, thumb sucking, an injury to the mouth or teeth, or the use of pacifiers for an extended period. If left untreated, malocclusions can lead to difficulty chewing or speaking and may cause pain in the jaw joint.
Some of the most common issues that we treat are:
Crossbites

Underbites

Overbites

Open bites

Misaligned teeth
Types of Orthodontic Treatment
At Bruggeman Dental, we offer a variety of orthodontic treatments to meet your needs. We offer:
-Traditional metal braces
Traditional braces are often best to correct many bite and alignment problems. No matter your orthodontic need, traditional braces can likely provide a solution.
-Ceramic braces
Ceramic braces work the same way as traditional braces, but they're better at blending in with your natural tooth color and smile. Many patients prefer the more discrete look.
-Invisalign
Kids and teens are not the only ones who need orthodontic treatment. Adults also sometimes need braces, but many adults don't want a mouth full of metal braces. The Invisalign system offers an excellent alternative: clear aligners, virtually invisible when talking or smiling.
How do I get Started?
If you think you or your child may benefit from orthodontic treatment, the first step is to schedule a consultation. During the consultation, we will ask about your medical history and any medications you are taking, examine your mouth and teeth, and possibly take some X-Rays.
Based on the information gathered during the consultation, we will develop a treatment plan tailored to your specific needs. The type of braces or other corrective devices used will depend on the severity of the issue and your individual goals for treatment.
With most braces types, you'll occasionally come into the office for an adjustment. Dr. Bruggeman will tighten the wires on the braces to ensure the teeth move into their correct position.
How Long do Braces Take?
Orthodontic treatment can take several months to a few years to complete, but the results are worth the wait. After completing treatment, you will have a beautiful, healthy smile that you can be proud of.
The amount of time you will need to wear braces or other corrective devices will depend on the severity of your bite issue and your individual goal for treatment. In most cases, orthodontic treatment takes 12 to 24 months.
After removing the braces, you may need to wear a retainer to ensure your teeth stay in their new, correct position.
Orthodontics for a Beautiful Smile in Thornton
A beautiful smile is one of the most important things you can have in life. It can boost your confidence, make you feel more attractive, and even improve your overall health. We want to help you achieve that beautiful smile, and with our years of experience and expertise in orthodontics, we can.
You'll love your new smile – we guarantee it. And our orthodontics are affordable, so you can get the treatment you need without breaking the bank. Call us to schedule your free consultation today.