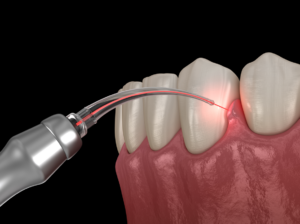 Are you looking for a better dental experience? Our Laser Dentistry services in Thornton can provide faster, more effective, more accurate, and more comfortable treatment options than traditional dental technology. 
What is Laser Dentistry?
The latest and greatest technology provides dental professionals and their patients with efficient, effective, fast, economical treatment options and excellent results. Dental technology constantly advances and improves. One of the most exciting developments in modern dentistry is laser dentistry. 
Laser dentistry involves innovative laser technology to carry out dental procedures and therapies. Laser technology has been developing and improving in the dental industry since the 1990s and has become even more commonplace in recent years. Laser treatment utilizes powerful, focused light beams, which can either modify or remove tissue. Laser dentistry can benefit both patients and dental teams, and it has a diverse range of applications. 
At Bruggeman Dental, we like to keep up with the latest technology to provide cutting-edge dental treatment. We love to pass the savings and benefits to our customers. We now offer various laser dentistry treatments at our Thornton office. 
What Are the Benefits of Laser Dentistry?
Laser dentistry is an advanced form of dentistry that can offer many benefits. These include:
Minimally-invasive treatment: lasers can replace dental drills and traditional hand-held instruments in many cases. With laser treatment, dentists can carry out procedures without drilling into the tooth or creating manual incisions in the gum. This facilitates quicker healing, protects the surrounding tissue, and reduces the risk of complications. 
Lower risk of bleeding and swelling: laser treatment is often gentler than traditional techniques, and it carries a lower risk of bleeding and swelling. In some cases, it can also eliminate the need for an anesthetic. 
Suitable for anxious patients: some people feel very anxious and nervous about having dental treatment. Laser dentistry can often be a less daunting prospect for patients, particularly those who fear needles because sometimes the laser eliminates the need for an anesthetic. The laser also eliminates the need for the sound of the dental drill, which might help some patients relax.
Which Laser Procedures Are Available in Thornton?
Laser dentistry is just one of the many ways we provide an extensive service range to our patients. Our laser treatment options include:
Treating tooth decay. Tooth decay is one of the most common dental ailments among children and adults. The decay can continue spreading until treated, elevating the risk of dental infections. Where the traditional dental drill is used, we can now also use laser technology to remove the decayed tooth portion. Both tools are effective and safe, but the laser is quieter, faster, and more accurate than a dental drill.
Gum disease management. Laser treatment can remove bacteria for gum disease and dental infections during root canal treatment.
Tooth whitening. Tooth whitening is one of the most popular cosmetic procedures. Bright white teeth enhance the smile and boost confidence. Laser whitening is a fast, effective way to lighten the enamel and create beautiful, radiant smiles.
Gum reshaping. Laser dentistry can provide cosmetic treatment options. It can help patients with various aesthetic concerns, such as the "gummy smile," where a large amount of gum tissue is visible when you smile, making your teeth look small. Our dental laser system can reshape and contour the gums to produce a more balanced, attractive smile.
Laser Treatment for Excellent Options in Thornton
With our laser dentistry services, you can get the best dental care available today and the highest-quality service in the Thornton area. 
If you'd like to schedule an appointment, don't hesitate to contact Dr. Bruggeman and the Bruggeman Dental team. We will be happy to answer your questions and book an appointment for you.