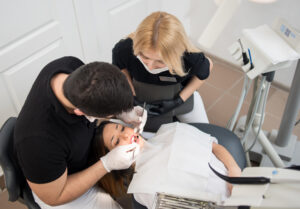 Do you have a cavity? Don't worry. It happens to the best of us. And you don't have to dread getting dental fillings – our team at Bruggeman Dental in Thornton can quickly and comfortably provide long-lasting, natural-looking treatment. 
If you are looking to improve your smile with dental fillings, stop by Bruggeman Dental to see what options we may have for you. 
You'll love the results. 
What is a Dental Filling?
Dental decay is a real problem that can cause cavities, toothaches, and even loss of teeth if left untreated. Dental fillings are a standard treatment for this type of decay. Dental fillings are made of various materials, but the most popular today is composite resin.
Dental fillings are placed in the cavity to restore the tooth to its original shape and function. Dental fillings can also improve the appearance of teeth that have been stained or damaged.
What Steps are Involved in Filling a Tooth?
To treat a cavity, Dr. Bruggeman will remove the decayed portion of the tooth and then "fill" the area on the tooth where we remove the decayed material. The filling involves several steps:
-First, we will ensure you are ready. We'll go over any remaining questions about the procedure and invite you to recline in a relaxed position in the dentist's chair.
-Dr. Bruggeman will use a local anesthetic to numb the area around the tooth we will fill. If you have an extreme fear of the dental procedure, inquire about sedation dentistry, which is available upon request to help you with anxiety.
-Next, we will remove the tooth decay will a specialized drill, air abrasion instrument, or laser. The choice of tool depends on each individual case. 
-If the decay is near the root, we may place a liner made of glass ionomer, composite resin, or other material to protect your tooth from pain and sensitivity.
-We then prepare the area for the filling by cleaning the cavity of bacteria and debris. 
-Dr. Bruggeman will probe the area to ensure all the decay has been removed and that the underlying structure is strong enough to support the filling.
-Lastly, we fill the cavity with a composite resin that can match your natural tooth color and shade. Dr. Bruggeman will finish the filling by shaping and polishing the material and area around the filled cavity.
How Long do Dental Fillings Last?
Dental fillings can last for many years with proper care. However, like all dental work, they may eventually need to be replaced if they become worn or damaged. To keep your dental fillings looking and feeling their best, make sure to brush and floss regularly and visit Dr. Bruggeman for regular checkups.
More Uses for Dental Fillings
Did you know that dental fillings are not just for cavities? We can also use them to repair cracked or broken teeth. We can also use them to correct tooth shade and color. 
At your next appointment, just ask us how we might provide the dental solution you have been looking for. The chances are good that we'll have some fast, effective options for any of your dental needs.
The Latest Dental Filling Technology in Thornton, CO
Dr. Bruggeman believes in using the latest technology to provide you with comfort and the best dental care possible. For example, our specialized dental electric drills help enhance your treatment and comfort because they are quiet, effective, and provide us with the pinpoint accuracy we need.
Schedule an appointment today, and experience the difference new technology makes with dental care.
See? That Wasn't So Bad!
Let us take care of your cavity. Let us demonstrate how easy and comfortable the procedure can be.  
Our dental fillings will look and feel great in your mouth. And you'll breathe a sigh of relief knowing your tooth is back to its optimal health and beauty. 
If you think you may need a dental filling, call our office today to schedule an appointment.