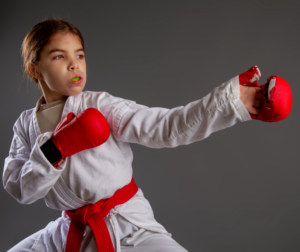 It's all fun and games until something goes wrong. At Bruggeman Dental in Thornton, we provide Athletic Mouthguards to prevent a dental emergency. 
We hope you'll expect the unexpected. We'll help you be prepared. 
Expect the Unexpected
Playing sports is fun, and it's excellent for your health and well-being. Many of us relish the thrills and spills of fast-paced games and close-fought contests. But any sort of athletic activity can be dangerous, particularly to your teeth. You'd be surprised how common dental injuries can be.
Be Prepared 
We are great at treating dental emergencies, but we also know how easy it could have been to prevent a lot of the injuries we see. If you're participating in activities that carry a risk of dental injuries, we strongly recommend using an athletic mouthguard. 
What are the Athletic Mouthguards?
When you play sports, you might take steps to protect your body from injury. For example, you might wear a helmet, knee pads, or shoulder pads. So why not also protect your teeth? 
Bruggeman Dental provides custom-fit athletic mouthguards made from tough, durable, molded plastic. They perfectly, comfortably fit your teeth, and protect them during physical activity. They will also help protect your lips, cheeks, and gums from impact. They are great for a wide range of activities. 
The Benefits of Our Mouthguards
It is possible to buy "one size fits all" athletic mouthguards from online retailers or sports stores and mold them yourself at home. But Dr. Bruggeman recommends investing in a higher-quality mouthguard to provide better protection. Our custom-made mouthguards fit your mouth better, protecting your teeth better.
They also optimize airflow and reduce moisture, so you can breathe easier and stay hydrated during long games or workouts. They even come in various colors, so you can choose the one that best suits your personality. 
Reasons to Get the Athletic Mouthguards
Hard balls, contact with opponents and surfaces, and punches and kicks can all cause damage to the teeth. With a mouthguard, you can lower the risk of common injuries such as cracked, broken, and dislodged teeth. 
We recommend mouthguards for athletes and participants of all ages and abilities. This includes any activity that might leave your teeth vulnerable, some of which you may not associate with a mouthguard. For example:
-Skateboarding
-Gymnastics
-Horse racing
-Mountain biking
-Wrestling
Not Just Protection for Your Teeth
Athletic mouthguards can help enhance your performance, too. Whether you're an ambitious amateur or an elite athlete, you want to give your best shot in every game or training session. With a custom-designed athletic mouthguard, you can.  
An athletic mouthguard can give you confidence without the worry of injury. So go ahead – make that tackle! Run as hard as you can! Do your best to catch that ball! Protect your teeth and go full-bore. 
What Does the Process of Athletic Mouthguards Involve?
The process is fast and easy. Our custom-made mouthguards generally involve two appointments. 
During the first appointment, Dr. Bruggeman will create an impression of your mouth, which will help in modeling your mouthguard. We will send the mold to a laboratory where skilled technicians will work their magic. 
We will be ready for your second appointment when your mouthguard is finished. We will have you try it on and make sure that you are completely comfortable. 
The Best Athletic Mouthguards in Thornton, Colorado
You can't be too careful when it comes to protecting your teeth. Our mouthguards will provide you with the best protection possible and enhance your performance with a snug fit and comfortable design. You can feel confident as you take on your next opponent.
Don't wait, contact us or set up an appointment to get started today. Bruggeman Dental has your teeth and your peace of mind covered.