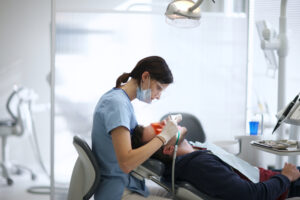 Are you worried about the radiation from a digital dental X-ray? Did you know that a standard X-ray only contains the same radiation dose you'd receive from consuming bananas? It's true because even bananas are technically radioactive. Are you still worried? Bruggeman Dental offers digital dental X-rays in Thornton that can reveal hidden cavities, dental structure issues, and bone loss – and they use up to 80% less radiation than traditional X-rays!
Our digital dental X-rays are a great way to keep you and your family healthy – they can help identify problems before they become serious. 
What are Digital Dental X-Rays?
Dr. Bruggeman prefers to have the most in-depth, comprehensive understanding of your dental situation. Part of the way he achieves this is with digital X-Rays. 
Digital dental x-rays are quickly becoming the standard in the dental industry. They produce clear, accurate images of your teeth and mouth. 
Modern digital X-ray sensors replace traditional photographic X-ray film with digital radiography. The digital sensors create higher resolution images than film. That's a fancy way of saying that digital dental X-ray technology in Thornton is next-generation and cutting-edge.
Our digital dental X-ray images include internal bone structure, tooth growth patterns, and any tooth decay. Cavities are not always easy to spot, but X-rays help us ensure we catch any issue with your teeth.
No More Waiting Around for the Results
Standard X-rays can take up to 15 minutes to process, but digital dental x-rays are immediately ready. You no longer have to wait around, drastically reducing your appointment time. 
You'll see the results right in our office on a monitor next to the dentist's chair. This is the best way for Dr. Bruggeman to explain what the X-rays reveal and discuss any issues with you.
How Much Do Digital X-Rays Cost?
Prices can vary depending on your unique dental needs, but we can provide an accurate estimate of cost before treatment begins.
And our digital dental X-rays in Thornton are much more affordable than traditional X-rays. They cost us less to process than conventional X-rays, and we pass the savings onto you. X-rays are an essential part of routine dental care, and we want to make sure they are accessible to everyone.
How Often Do I Need X-Rays?
The American Dental Association recommends that most adults have a complete set of X-rays taken every two years. However, this may vary depending on your individual dental health.
If you are experiencing dental problems, we may need to take X-rays more frequently.
What is the Dental X-Ray Process?
Although the technology has changed, the dental X-ray process is pretty much the same as it's always been. It's comfortable and easy. All you need to do is relax and allow us to do the work.
We'll have you sit in a comfortable chair and cover your chest with a lead shield. The shield is to protect you from radiation.

We will then place the X-ray machine over your head.

We'll take the X-ray image, and you'll be on your way.
Digital X-Rays in Thornton Benefit Your Dental Health
Digital dental X-rays help reveal everything that's going on in your mouth with incredible clarity. The Bruggeman Dental team can make quick, informed decisions about your oral health.
Our next-gen digital dental technology is safe, effective, and efficient. We want to keep you and your loved ones safe, so we only use the latest technology in our office. This means you and Dr. Bruggemen get the information you need without any worry.
Call to schedule an appointment today and see the difference our digital X-rays make.