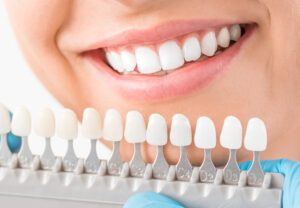 You don't have to be born with a perfect smile – you can get one with veneers at Bruggeman Dental in Thornton.
What are Veneers?
A lot of people feel self-conscious about their teeth. But there's no need to feel that way any longer. With veneers, we can completely redesign your smile.
They are very thin ceramic shells covering and reshaping your existing teeth, giving you a more uniform smile. They can also improve your dental health and functionality. They also provide a quick, non-invasive way to improve your dental situation while keeping your natural teeth in place. You'll be proud to show off your new smile.
Some of the issues veneers can correct are things like:
-Staining
-Cracked teeth
-Spaces between the teeth
-Misaligned teeth
-Chipped teeth
What is the Process for Placing Veneers?
Is a process that can take a few appointments to complete.
On the first visit, Dr. Bruggeman will discuss the new shape and look of what we will accomplish by placing the veneers.

The second step will be preparing your teeth. This will involve removing a minimal amount of the tooth enamel that is necessary for the veneers to fit properly.

The third step is to take an impression of the newly prepared teeth.

This impression will be sent to our laboratory for the final product to be fabricated. The process at the laboratory takes between 10-14 days. If necessary, we will provide you with a beautiful temporary solution to wear until your final veneers are ready.

Once they are ready, we will bond them into place. 
Our process includes ensuring that you can enjoy your new smile for a very long time. We will make every effort to make your veneers feel just like your natural teeth. If something doesn't look or feel right, let us know, and we can adjust them for you. 
How Long Do They Last?
Veneers can last anywhere from 5 to 10 years, depending on how well you care for them. They are not indestructible, and they can chip or crack if you are not careful. 
If you take care of them and visit us for regular dental checkups, you can enjoy your beautiful new smile for many years.
How Do I Care For My New Veneers?
Cleaning your new veneers is very important, and it's easy to do. Another nice thing about them is that you can brush and floss them like your regular teeth. With some cosmetic dental options such as bridges, you can't floss between the prosthetic teeth, making cleaning more difficult.
You should also avoid biting into anything too hard, which could damage the veneers.
What is the Cost?
The cost will vary depending on a few factors, such as your unique dental situation and the type of veneers you choose.
We want to ensure you are comfortable with the treatment plan before beginning, and we provide detailed estimates of your costs. We'll go over any of your questions about the process. We will work diligently to win your satisfaction throughout the process.
We also offer payment plans to make the cost more manageable.
The Best Veneers Service in Thornton
A great smile is an essential feature of any person's appearance. With veneers from Bruggeman Dental, you can have the perfect smile with in no time. Our veneers can also correct many types of tooth problems. 
We can help make you look and feel more confident. With our experienced team, we can give you a beautiful smile that can change your life for the better. 
Call our office today to schedule an appointment for a consultation. You'll love the new you.